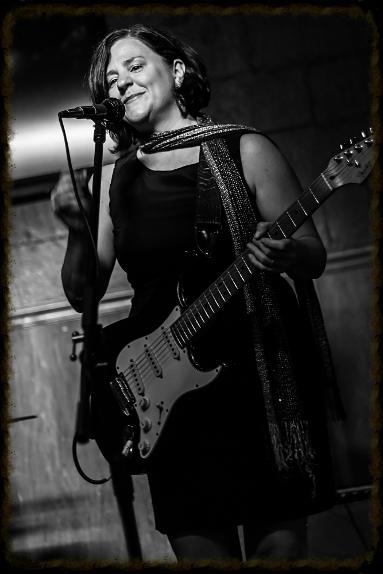 PHYLLIS HOPKINS
Phyllis Hopkins musical journey began when she was young listening to the music of Diana Ross, Elvis & Journey. She developed a passion for rock and blues listening to Santana, Led Zepplin and Aerosmith. But it wasn't until she was 24 years old and heard Stevie Ray Vaughan that she decided to pick up a guitar and start playing herself. After that, there was no looking back.
She soon immersed herself in blues greats Magic Sam, T-Bone Walker and Jimmy Vaughan, along with the music of Albert, BB and Freddie King. This period is also when she discovered the guitarist Ronnie Earl, who has proven to be her greatest inspiration.
As a vocalist, Phyllis was also influenced by Koko Taylor, Etta James and Billy Holiday in addition to Eva Cassidy, Ann Wilson and later Shemeka Copeland. It wasn't long before she started hitting the local blues scene with her first band "Little Sister and the Moneymakers".
Since then, she has shared the stage with blues greats such as Sonny Rhodes, Shemeka Copeland, Debbie Davies, Toni Washington, Ronnie Earl and Clarence Spady.
A gifted songwriter, Phyllis recalls, "It was kind of an accident, that I started writing songs, I just wanted to perform music that was different, yet reflected all of the artists that I have loved through my life, so I started to piece things together and everything fell into place in my own style." "You Don't Know" was her first all original CD which was released independently in 2008. It was warmly received, getting Editors Pick at Disc Makers and Indie Music.
Her newest CD, "The Phyllis Hopkins Electric Trio", was released in Sept 2014 and is a combination of Louisiana Bayou Blues, West Side Blues, Soul, Rock and even some main stream influences.
Phyllis is known for her soulful and sometimes "in your face" guitar licks and vocals, she consistently leaves the audience wanting more at her live shows.