Pittston blueswoman Phyllis Hopkins to return to Briggs Farm Blues Festival
http://www.theweekender.com/insidestories/26640/pittston-blueswoman-phyllis-hopkins-to-return-to-briggs-farm-blues-festival
Two decades ago, a fledgling performer on the Wyoming Valley music circuit opened the first Briggs Farm Blues Festival in Nescopeck with her Little Sister & the Rhythm Method band.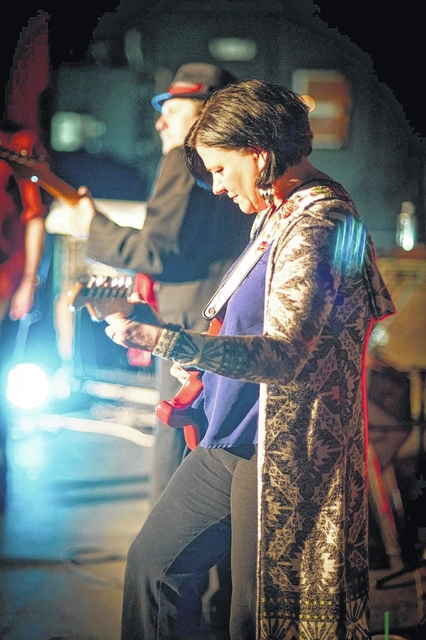 This year, Phyllis Hopkins returns as a veteran bandleader and seasoned blueswoman to open the festival's 20th year on the Back Porch stage July 7. She has played thousands of gigs, has three CDs under her belt and tirelessly works to improve her technique.

Festival founder Richard Briggs said he first recognized Hopkins' potential when he heard her in a Wilkes-Barre club in 1998 while checking out bands for his inaugural fest. He said he thought it would be a "cool connection to that first festival to bring her back for our 20th year."


In recognition of her guitar prowess, Hopkins also will be given the privilege of playing the national anthem, a longstanding festival tradition, he said.

By design, electric blues is a big part of the Pittston woman's life. She met her husband while performing at Scranton's Blues Street club on Wyoming Avenue. And she teaches guitar to young aspiring musicians at Rock Street Music in Pittston.

In addition to performing this summer, she will make time to go back to the studio in July for her fourth self-produced album.

In Hopkins' view, the genre would be more popular and better understood if the uninitiated were exposed to live blues performances.

"When someone can see really good blues players, it's a really great experience for them, even though many did not really know much about the blues. The young people who hear us always comment about how much they like the music and they tend to stay to the end of the show because they find it so refreshing to experience," she said.

Though she had dabbled with the guitar as a young adult, Hopkins said she did not practice regularly until after she was inspired by Stevie Ray Vaughan's energized music years ago when the late iconic guitarist was sitting on top of the blues world.

Vaughan's dazzling technique and high-energy performances reinvented electric blues. His riveting music attracted new audiences — and Hopkins became a disciple.

"Listening to a Stevie Ray Vaughan album was my first real exposure to the blues. Santana was always a huge influence but Stevie Ray opened the doors for me to study players like T-Bone Walker, Magic Sam and Ronnie Earl, who became one of my biggest influences," said Hopkins, who disciplined herself at age 24 to practice religiously. She felt competent enough to perform at clubs by the time she was 27 with the Little Sister & the Moneymakers band.

"I got a late start taking music seriously, but it all worked out," she said. "I started at an age when a lot of rock stars died."

Briggs was a small gathering when it opened on a hot July day in 1998 with Hopkins fronting the Little Sister and the Rhythm Method band. There was only one stage then and, with an audience of 800 people, was about a tenth the size it is today. But those who journeyed to Nescopeck knew they found a good thing.

Like the Briggs festival itself, Hopkins has grown musically and has matured as a bandleader. Her trio — the other players are bassist Nolan Ayers and drummer Julio Caprari — has been playing together for five years. Joining them at Briggs will be guest guitarist John Basta.

"The blues is an artform that I love. It's never been pushed like rock 'n' roll and it never will be, but those who come out and listen will appreciate it once they give it a chance," she said.

The Phyllis Hopkins Band kicks off three days of enduring American music at 2 p.m. July 7 off the Old Berwick Highway, Nescopeck. Outfit yourself with light clothing and be prepare to hear some heavy sounds.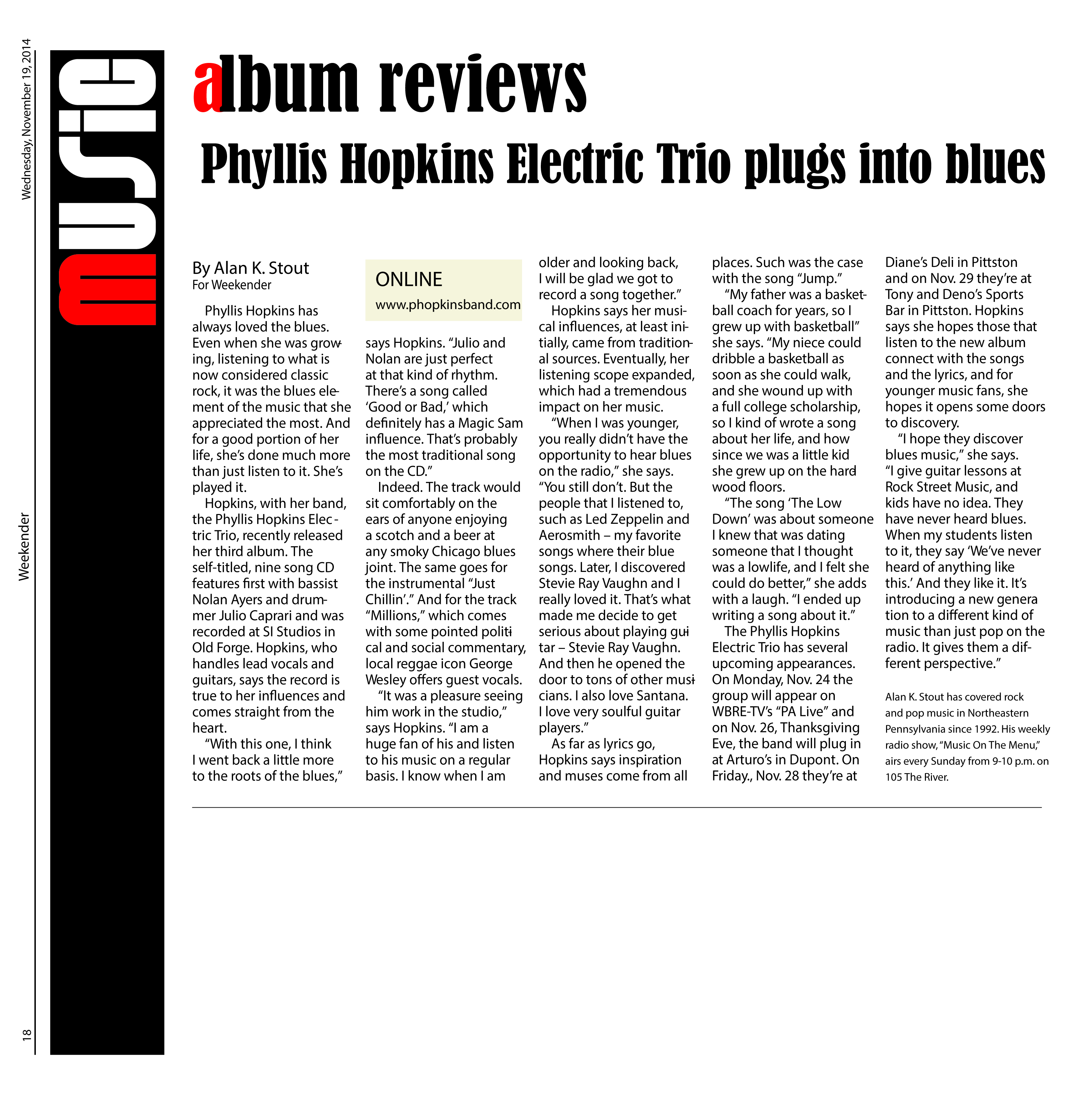 The Electric Trio Perform: "the Low Down" live on PA-LIVE


Phyllis Hopkins, HBIC aka: Head Blueswoman in Charge

by Patrice Wilding The Scranton Times-Tribune

I saw Phyllis Hopkins play several weeks ago during a fundraiser for the Women's Resource Center at Jack's Draft House in Scranton. Hers was a name I have come across numerous times in our entertainment listings, playing at venues throughout the region. I had heard many great things about her skills as a blues guitarist, but I wasn't sold on her extreme talent until I saw it for myself.

Right away, I knew she would be a perfect fit for our artist profiles for" On The Record". Not only is she a frontwoman, which is hard enough to come by in this area, but she is leading the charge in a genre that has seen better days around these parts. Good blues clubs are not a thing one finds on every corner in NEPA, sadly. But Ms. Hopkins and her equally capable backing bandmates, drummer Julio and bassist Nolan, are making sure music fans throughout the area don't have to go very far or very long without a healthy dose of the blues (originals and covers), mixed with improv and some classic rock to taste.

Enjoy the full article............................................
Lady plays the blues: Phyllis Hopkins Electric Trio playing lots of dates, recording new songs
Phyllis Hopkins came to musicianship later in life than some, but it's a decision she has yet to regret. The Pittston native was first inspired to consider the guitar when she heard Stevie Ray Vaughan's music in her early 20s. She was always a Led Zeppelin fan growing up, but the blues guitarist's style spoke to her on a different level.
"I thought it was very passionate music," Ms. Hopkins said on a recent evening during band practice with her group, the Phyllis Hopkins Electric Trio. "I always wanted to learn guitar, and when I heard the tone of his guitar, the style, that was it."
She began lessons with "StingRay" Ray Delpriore, whom she saw playing Vaughan's music at a show at Genetti's, she explained. StingRay also hosted Monday night jam sessions at Lispi's Cocktail Lounge in Plains Twp., where Ms. Hopkins met other musicians and formed her first band, Little Sister and the Moneymakers.
As guitarist for the group, she played blues covers in the style of The Fabulous Thunderbirds, she said. Members came and left, and after a couple years, it became known as Little Sister and The Rhythm Method, and then just The Little Sister Band.
Ms. Hopkins eventually found herself drawn to the idea of writing original music. Her songs reflect a variety of subject matter, from being transported to the 1920s, an era she finds interesting, in "Stranger in This Land," to "Throw Me a Line," which she wrote after watching media coverage of the fallout of Hurricane Katrina.
After taking some time off to write and record her nine-song solo CD, "You Don't Know," released in 2008, Ms. Hopkins formed the Phyllis Hopkins Band with her cousin, John "Hoppy" Hopkins, Jack Gale and Sean Lehman. The four-piece ensemble played Ms. Hopkins' original tunes and incorporated classic rock into its set list. For a time, Ms. Hopkins even went the acoustic route, playing solo gigs locally, but when she heard drummer Julio Caprari and bassist Nolan Ayres were available (both former players with StingRay), she decided to put a band together again.
This time around, they are known as the Phyllis Hopkins Electric Trio, and the threesome, who have been playing together since last June, are enjoying themselves to the fullest. The songs are a healthy mix of original material, some blues and even modern hits, covering artists as varied as Etta James, Alicia Keys and the group's favorites, Led Zeppelin and Stevie Ray Vaughan.

Mr. Caprari, a Realtor by day who used to play in the Zeppelin tribute band Black Dog, said he used to go out to see Ms. Hopkins perform.

Mr. Ayres works at a local bank and gets creative satisfaction from being part of the band, which plays one or two nights a week.

"On a good night, we like to do improv and stretch things out," Mr. Ayres said. "(Phyllis) lights it up with distortion, she's not just up there with an acoustic (guitar). We're definitely doing something different than other people around here. "The work is pretty steady," he continued. "So the proof is pretty much in the pudding. If you're playing steadily, you're doing something right." "There's a strong chemistry and musicianship when we play," Ms. Hopkins agreed. Folks at her shows often tell her she should be playing in bigger cities, like New York, she added. "But we don't live in a fantasy world," demurred Ms. Hopkins, who also teaches guitar lessons at Rock Street Music in Pittston.

The Phyllis Hopkins Electric Trio already has a slew of festival slots and bar gigs from Wilkes-Barre to Forest City lined up for the summer, including the Mountain Sky Project blues festival in Scott Twp. in August, where they will share the bill with noted blues musician Popa Chubby; Women Who Rock on July 19; Jack's Draft House in Scranton July 25; and J.J. Bridjes in Clarks Summit on Aug. 9.

In the meantime, the band also is working on recording an EP of six to eight songs at McCrindle Bldg. Studio in Laurel Run, which they hope to finish near the end of summer. It'll be an up-to-date representation of Ms. Hopkins' latest band and musical style, though the real treat is seeing such a strong and capable woman lead her band through a rocking set live.

And with such a busy schedule ahead of her, local music fans will have plenty of opportunities to do just that.

Contact the writer: pwilding@timesshamrock.com, @pwildingTT on Twitter About Phyllis Hopkins Electric Trio

Founded: Ms. Hopkins began playing publicly in 1996; she has been performing with the current lineup since June 2012.

Genre: Blues, rock, indie and improv

Members: Phyllis Hopkins, vocals and guitar; Julio Caprari, drums; and Nolan Ayres, bass

For fans of: Santana, Led Zeppelin and Janis Joplin

Online: www.phopkins band.com